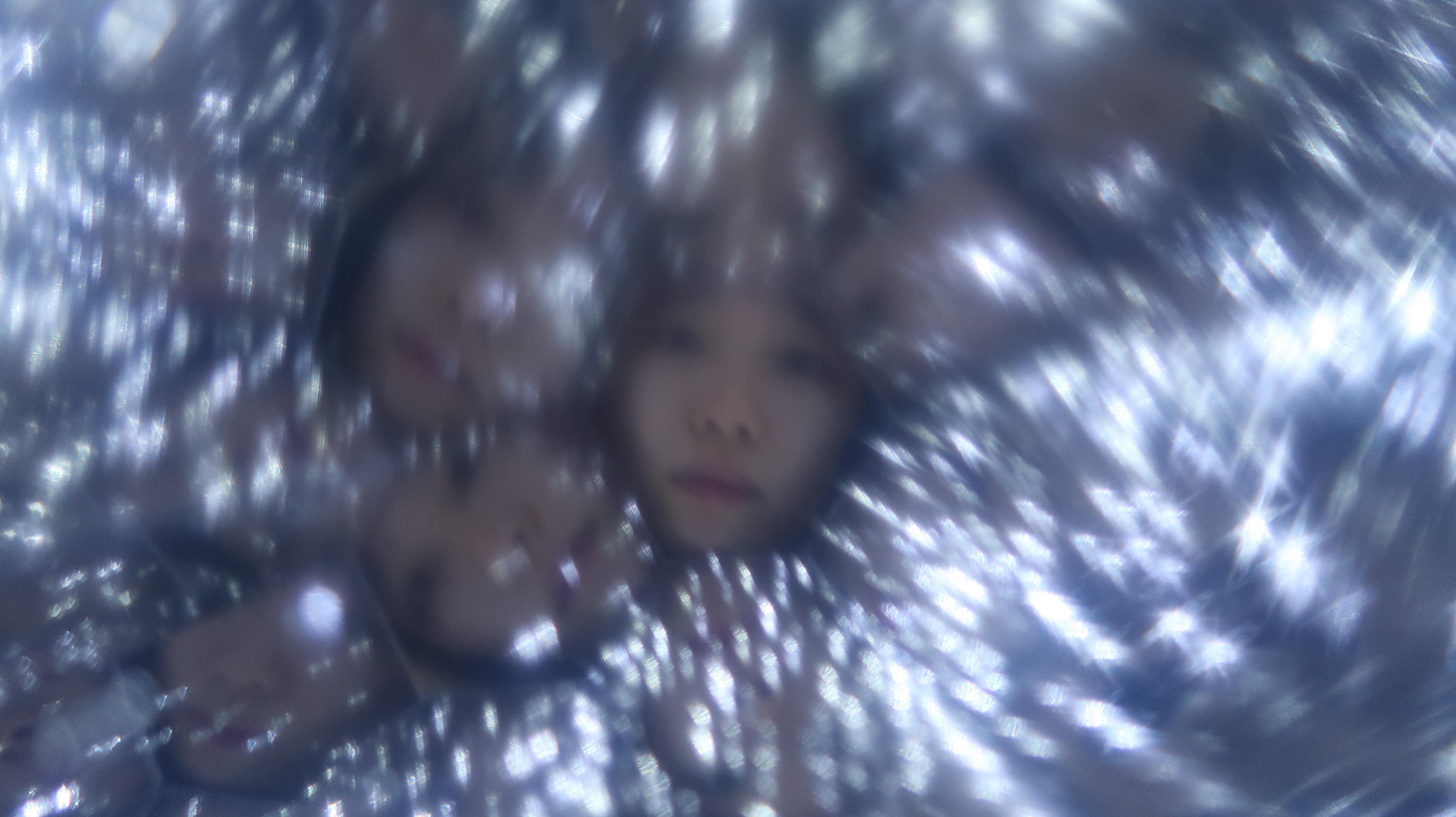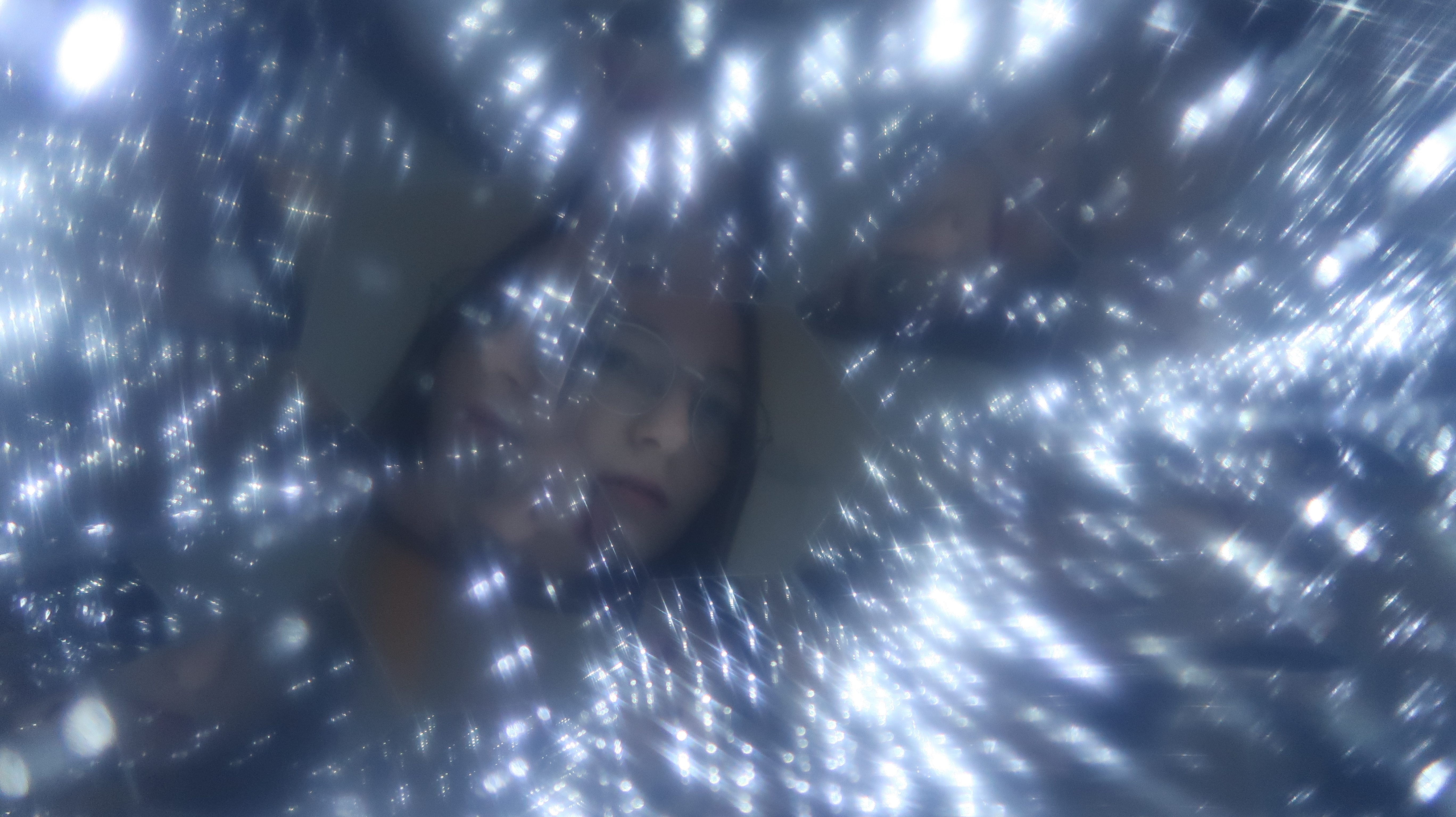 You are the star
2022
Size variable, telescope size: 42 x 37 x 60 Inches
Telescope, projector, video of people looking into the telescope, phone, shooting star video, acrylic mirror, fiber optic light.


I made a telescope that looks back at the viewer. As one gets closer, he sees an endless tunnel of shiny stars and mirrors reflecting his own face. With 400 fiber optic lights each coming through the tiny holes cut into its mirror, the electric operation allowed me to make a flickering effect. An animated video plays at the end of the tunnel, with mirrors carrying away the shooting stars in every direction.

I used a camera to document people looking into the telescope. Like planets with gravity, these faces were surrounded by countless stars. Curious, blurred, lightened up by starlight, each face formed a new universe. Under the stars or not, it is always clear to me the fragility and ineffectiveness of human beings. I am grateful to be so small. It allows me to appreciate the beauty and greatness of things. And yet, I see the viewer. You are the center of gravity. You are generating and reflecting light. You are burning up and fading into the vastness I can never reach. You are the star.




I decided to go on a road trip during the New Year of 2022. Starting from Brooklyn, I drove four hours to Orangeville, Pennsylvania, a place soaked in white mist. Then, another three–hour drive to Cherry Springs State Park to the first dark sky park I went to. I spent most of my life living in the city, and I never saw the night so deep and gorgeous without light.
For two days I wandered under the stars in moonless fields. The complete darkness insulated me from every outside interference. It was a very intimate time with myself. As clear as mirrors, the silent sky reflected the emptiness and nothingness I'd been carrying since the very beginning of my life. At that moment I thought, the truth must be too simple for humans to discover. I thought inside the telescope there should be mirrors reflecting our own faces.
I went to the dark sky park in the deepest winter, at a time the world had returned to its purity and silence. I let the silence roar loudly in my ears and I lay my head on a wood pillar to gaze into a Milky Way. It seemed to me that in this world, nothing could be more distant than the stars, and yet every inch of me was bathed in their faint light. It reminded me of my relationship with people, each person a point of light linked by unseen lines. Through an incredible distance the light of stars traveled through the lifeless darkness and eventually reached my eyes. I gazed into the stars as if it could extend my brief existence. I gazed into the eyes of the audience to appreciate this seemingly inconceivable coincidence. The clear sky spoke to me with clarity: that the world was so cold and bare and in this lay its terrible beauty.
"You are the star", 2023, Chashama, New York, NY
"Landscape: Constructed and Wild", 2023, Site: Brooklyn, Brooklyn, NY
"2023 International Juried Exhibition", The Center for Contemporary Art, Bedminster, NJ
"72nd A-One", 2022, Silvermine Arts Center, New Canaan, CT
"Outro: World-Building Within and Outside the Studio", 2022, SVA Chelsea Gallery, New York, NY